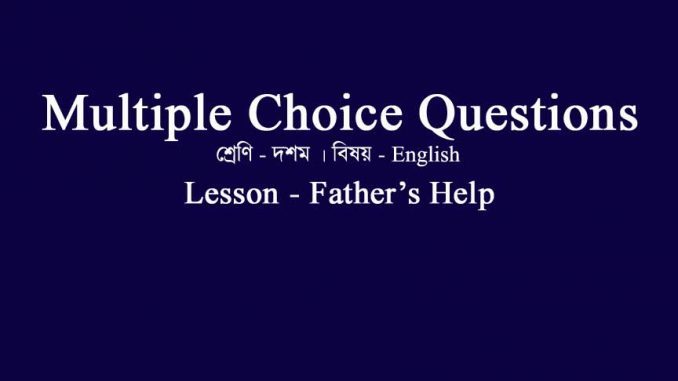 শ্রেণি – দশম | বিভাগ – English | Lesson – Father's Help (Chapter 1)
দশম শ্রেণির English বিভাগের Lesson 1 –  Father's Help থেকে রইল কয়েকটি ভীষণ গুরুত্বপূর্ণ MCQ ধরণের প্রশ্ন আর সেগুলির উত্তর।
Multiple Choice Questions (MCQ)
Questions
1| With a shudder Swami realized that it was-
a) Friday b) Thursday c) Monday d) Wednesday
2| In Swami's school students have to assemble for prayer
a) at 8.30 b) at 9.30 c) at 9.45 c) at 10.30
3| "I can't go so late to the class." The speaker can not go so late because –
a) the school gate will be closed b) the headmaster would not allow him to enter his class c) the headmaster will punish him d) the teacher will scold him
4| Swami's father wrote the letter to Swami's –
a) friends b) headmaster c) teacher d) mother [Madhyamik'19]
5| The letter made Swami feel –
a) happy b) sad c) excited d) worried [Madhyamik'19]
6| While going to school Swami was bothered by –
a) conscience b) headache c) toothache d) fever
7| Swami stopped on his way to school to decide whether Samuel was a/an –
a) bad person b) good and friendly person c) honest person d) dishonest person [Madhyamik'19]
8| Swami felt dizzy because he was –
a) excited b) indifferent c) afraid d) puzzled [Madhyamik'19]
9| Swami stopped on the roadside to make up his mind about –
a) Samuel b) his father c) his mother d) other teachers
10| Swami was late to the school by –
a) an hour b) half an hour c) two hours d) fifteen minutes
11| When Swami entered the class, Samuel was teaching –
a) history b) arithmetic c) science d) geography
12| The more Swami thought of Samuel the more –
a) aggrieved he felt b) cheerful he felt c) disappointed he felt d) angry he felt [Madhyamik'19]
13| Swami's description of Samuel was
a) accurate b) real c) imaginary d) a mixture of the real and the imaginary
14| The headmaster was on leave –
a) for two days b) for five day c) for a week d) for a fortnight
15| Father snatched the letter away from Swami and –
a) put it in his pocket b) tore it up c) beat him d) asked him to got to school regularly
---
---
Answers
1| Swami realized with a shudder that it was c) Monday morning.
2| At (b)9.30, when he ought to have been in the school prayer hall.
3| (d) he will scold me if I say so.
4| He proposed to send a letter with Swami to the (b) headmaster .
5| The letter made Swami feel (d) worried .
6| His (a) conscience bothered him.
7| Samuel was not such a (a) bad man after all.
8| Swami's head was dizzy with confusion, hence the answer is (d) puzzled.
9| Swami stopped on the roadside to make up his mind about (a) Samuel .
10| Swami was (b) half an hour late.
11| Samuel was teaching (b) arithmetic .
12| The more Swami thought of Samuel the more (c) disappointed he felt .
13| Swami's description of Samuel was (d) a mixture of the real and the imaginary .
14| The headmaster was on leave for (b) for a week .
15| Father snatched the letter away from Swami and (b) tore it up .
---
WBPorashona.com-এর পোস্ট আপডেট নিয়মিত পাবার জন্য –
---
আমাদের কাজ থেকে উপকৃত হলে এই লেখাটি বন্ধুদের সাথে শেয়ার করার অনুরোধ রইল।